Living by the beach

in the shadow of palm trees
Over thousands of years, many cultures around the world have attributed a variety of symbolism to palm trees. The way it grows by climbing up to the sky, its flexibility and strength in overcoming the power of mother nature have made them seen as a symbol of growth and success.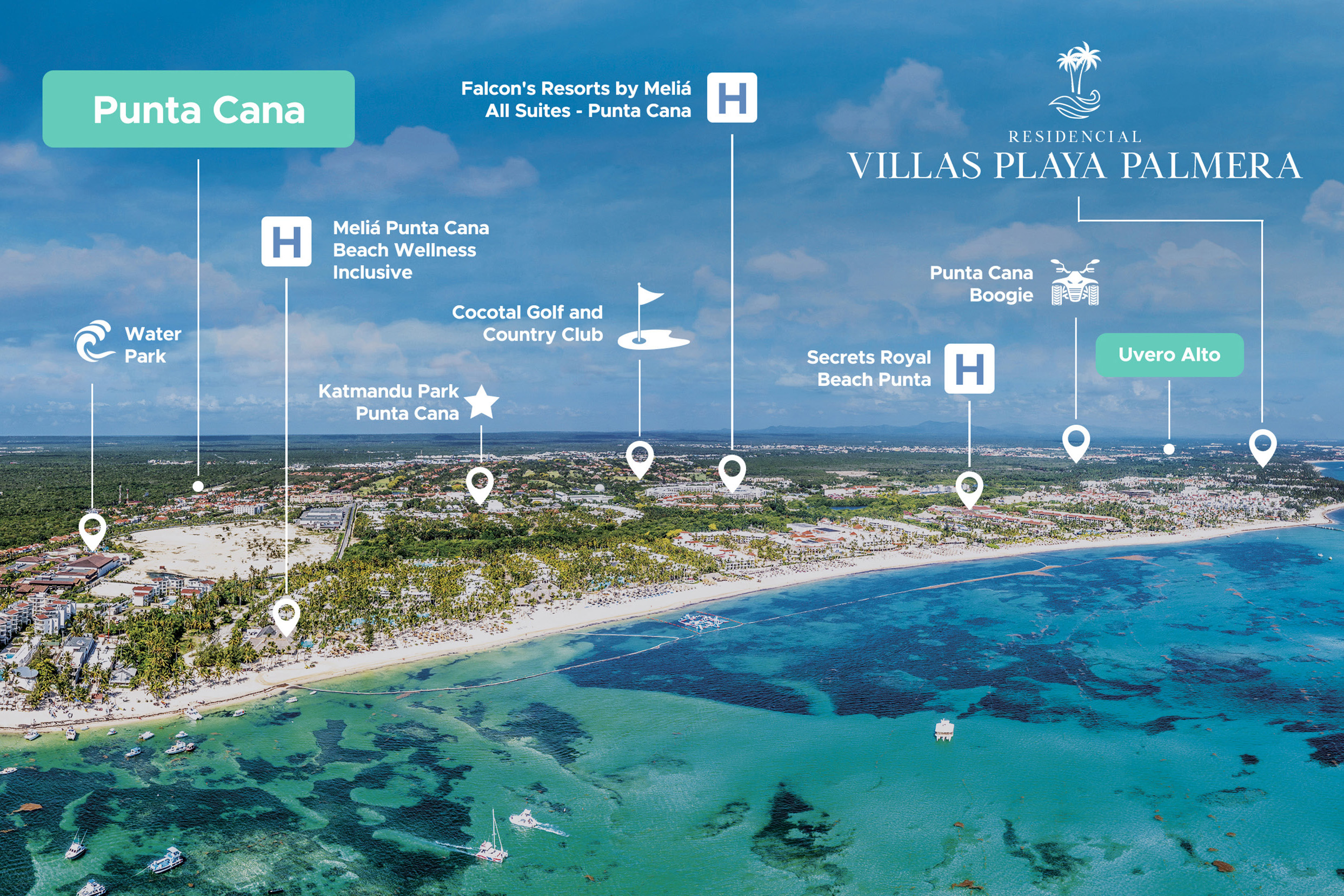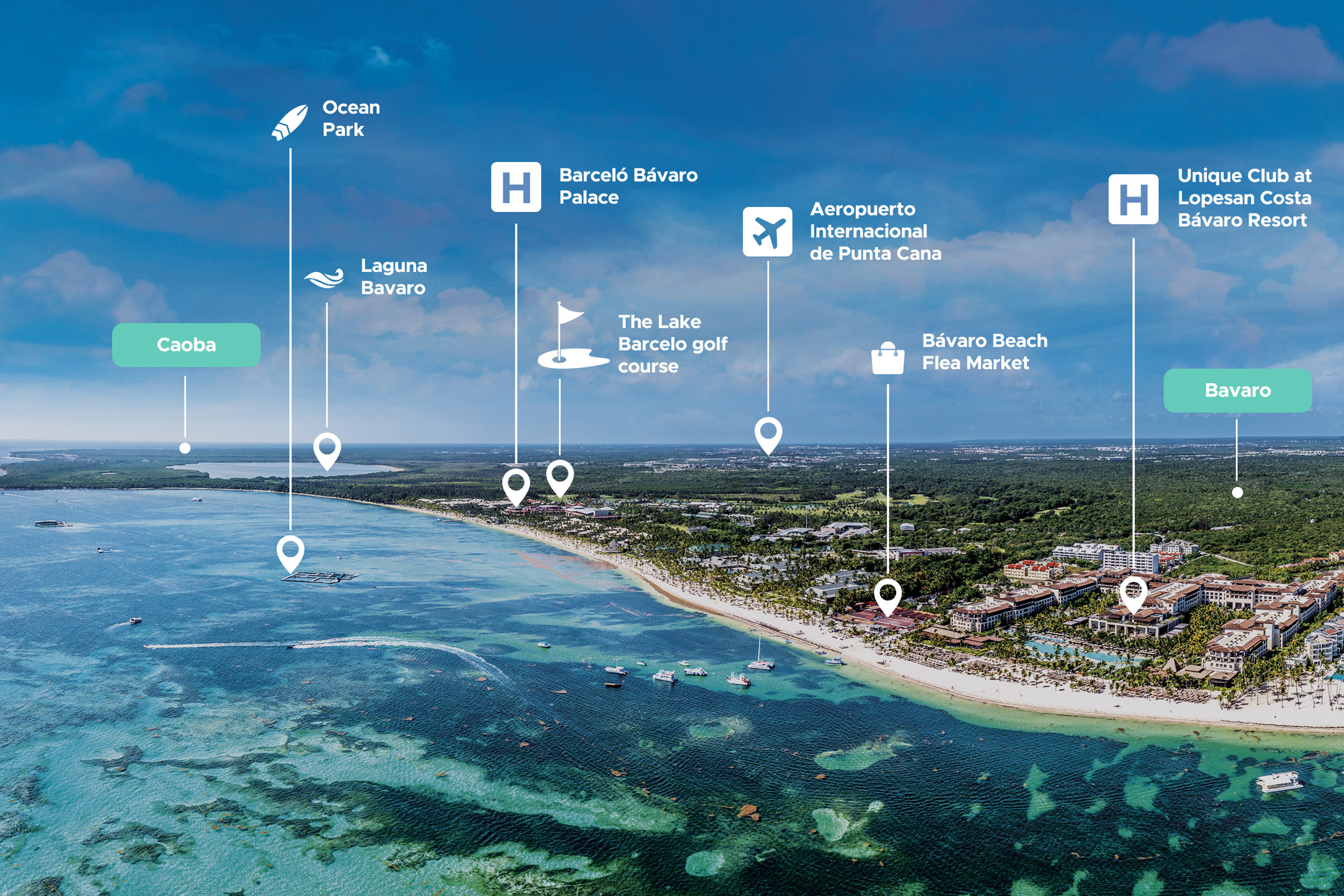 Villas Playa Palmera - it's the lifestyle you desire!
The short distance between Villas Playa Palmera and the center of Punta Cana and Bávaro makes it possible to move freely for entertainment purposes.

The surrounding area also offers a wide range of leisure activities. It features golf courses and rope parks. There are buggy tours, cruises to surrounding islands, fishing, scuba diving, dolphin and whale watching in their natural habitat. Excursion offerings also include trips to the capital, Santo Domingo, parasailing, zipline rides and much more. Punta Cana and Bávaro also has a wide selection of bars and restaurants as well as nightlife entertainment in numerous discos and clubs. It's a great place for an activity vacation with friends or a family.
Villas Playa Palmera - it's the lifestyle you desire!
Live in a luxury property
The area of the villa measures 382 sqm and includes two floors connected by a staircase. It consists of a living room with dining area and open kitchen with space for washing mashine, 4 bedrooms, 5 bathrooms, access to the terrace, as well as utility rooms. On the terrace level there is a swimming pool for the exclusive use of the villa's guests and a garden area.
The building has a garage for two vehicles and a convenient driveway that can provide additional parking spaces. It is a place that is your center of relaxation providing all the comforts where you will feel at home.
2. Sophisticated Villas project with an innovative and modern design.
Villas Playa Palmera is a development of residences in the Playa Palmera resort area. Each building has been designed based on the most modern architectural trends. Extensive windows and glazing provide access to light and fresh air.
Every smallest detail matters. They are what create the villa's unique character and make you feel like at home. That is why we base the interior finishing on the highest quality materials and according to the latest designer trends. The solutions we propose are designed to emphasize the tropical character of the area and take advantage of the beauty of nature. At the same time, we care about the modernity and functionality of such solutions.
Playa Palmera Resort services include all the required compedium for renting your residence to outside guests. A marketing service is provided by publishing your listing on our own pages and on AirBnB. You also have the opportunity to conduct your own marketing activities to make your place more and more popular with visitors.
1 month, 60% occupancy (20 days)
500 USD x 20 = 10.000 USD

30% expenses : service, administration, marketing
The 40% (10 days) per month in which the property is not rented will be at your own disposal.
Airbnb is one of the largest rental platforms. It offers users to rent properties anywhere in the world. It makes it easy to find a place for a vacation, a trip, or a space to work. With cooperation and service from Playa Palmera, short and long term rentals of the villa to outside guests are possible, as well as full administration of your property. Thanks to our marketing activities on portals such as Airbnb, we are able to guarantee rentals about 60% of the days per month. This way your villa earns money for you, creating a return on investment.